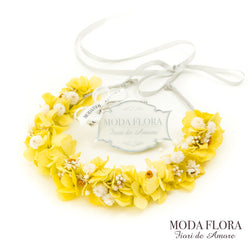 Floral Crown - Spring Time
=
Regular By Hand Flower Delivery Service & Charges
Monday to Sunday: 9am -1pm, 2pm - 6pm, 6pm-10pm

Delivery on Sunday and Public holiday, please place order one day in advance. Otherwise, delivery may be rescheduled to following day.

The cost of regular delivery may vary from HK$100 to HK$200, please see details below.

Free - 

Self Pick-Up at 235 Queen's Road Central, Hong Kong

$100 Zone A

HK Island - Central, Eastern & Western District

Kowloon

New Territories - Tsuen Wan & Kwai Tsing District

$150 Zone B

HK Island - Southern District, The Peak

New Territories - Sha Tin, Tai Po

$200 Zone C

New Territories - Tuen Mum, Yuen Long, Northern District

New Territories - Tseung Kwan O, Sai Kung, Clear Water Bay

$200 Zone D

New Territories Islands - Tung Chung, Disney, Airport, 

Discovery Bay, Lamma Island, Cheung Chau
(Valentine's Day morning delivery service is not applicable to Discovery Bay, Lamma Island and Cheung Chau Island)
HK$1 will be charged for the bag, according to Hong Kong government law.
Delivery will be made on the selected date. We will try our very best to accommodate the requested delivery time, however, this is subject to traffic condition. MODA FLORA will not accept order cancellation or refund due to late delivery in the same day under above delivery service provided.
If the recipient is not available to collect the parcel in person upon delivery, alternative instruction given by the recipient to courior which may vary from sender instruction will be arranged, delivery will be considered as completed.
If we are unable to deliver or contact the recipient/sender within 10 mins upon arrival, a charge will be applied for redelivery or you may pick up from shop, delivery charge is non-refundable.
Any changes on delivery, please inform us at least 48 hours prior to delivery. 
As to flower delivery, please choose Flower by hand delivery options to provide the best protection to your beautiful flowers.
日常運費
香港上環皇后大道中235號自取免運費。
A區$100  香港島(中西區),九龍,新界(荃灣及葵青區)
B區$150  香港島(南區,山頂),新界(沙田,大埔)
C區$200  新界(屯門,元朗,北區,將軍澳,西貢,清水灣)
D區$200  新界(東涌,迪士尼,機場,愉景灣,南丫島,長洲) (情人節早上不提供

愉景灣,南丫島,長洲送貨服務)
如果我們無法在快遞到達後20分鐘內根據發件人提供的信息發送訂單,則將收取費用以進行重新發送/或可到店自取。運費則不會退回。
GREETING CARD SIZE 10x10cm.  Only available while stocks last. 
Once a complimentary card is written/printed, any changes may incur reproduction cost $50.
Complementary laser engraved tag only available while stocks last.
If customised tag is made, any changes will incurred extra cost. 

Each preserved flower arrangements is individually handcrafted by our professional florists and are one of a kind. The product you receive will be as identical as possible to the displayed arrangement.

During certain times of the year, our florists may have to change some flower types due to the unavailability of seasonal flowers. However, we ensure them to be of equal beauty, price and quality. This is a Moda Flora guarantee!

As flowers are considered perishable products, all of our sold arrangements are 

non-refundable and non-exchangeable.
As flowers are natural products, colours may vary from that shown in the catalogue / photo references. However, we will make every effort to maintain the colour scheme, size and shape of the flower arrangements.
Products in the catalogue are not in scale; for product dimensions, please check with our staff.
MODA FLORA reserves the right to amend or withdraw any terms and conditions or terminate the offer any time without prior notice; in case of any disputes, the decision of MODA FLORA shall remain final.
禮品系列隨產品附送心意咭一張,尺寸

10x10cm

,請於產品內頁添加,數量有限,送完即止。

如心意咭已制成,任何修改需另收 $50

。

多款自選激光雕刻木牌,數量有限,送完即止。

如自訂牌已製成,任何修改需重新收費$100 - 200, 視乎原有收費而定。

此商品屬天然及手工制作,受季節性花材選擇而略有不同。

由於保鮮花是易碎產品,我們所有產品出於出貨後恕不接受退換。

由於花是天然產品及每件產品是手工制作,顏色可能與圖片參考中顯示的略有不同,圖片只供參考。

MODA FLORA

保留隨時修改或取消任何條款和條件或終止優惠的權利,恕不另行通知

;

如有任何爭議,

MODA FLORA

保留最終決定權。